Quava Mega Puck Flow
Quava Mega Puck Flow from Kaijo is a megasonic cleaning system designed to provide higher flow rates and rotational speeds for cleaning HDD media, FPD glass and semiconductor components in close proximity. The Mega Puck Flow megasonic transducer directs high-power acoustic energy by scanning over large surfaces.

If you have any questions about using Quava Mega Puck Flow for your application, please contact us by e-mail.
Benefits
Oscillation mode can be selected to adapt to different cleaning applications
Provides superfine cleaning of hard disks, flat-panel display glass and semiconductor components
Cost-effective and easy to use
Megasonic energy is directly applied to the target object
An effective Turn-key manufacturing solution
Higher flow rate than the original Mega Puck
Greater allowable rotational velocity of target substrate than the original Mega Puck
Larger permissible distance from the target substrate to allow for holding pins
Features
May be used with DI water or chemical
Can communicate with a host PC via terminal, RS-485 or DeviceNet
Controllable removal output power
Output power meter with 4-digit display
No field calibration required when replacing a generator or transducer
High-frequency cleaning at 950 kHz
Cleaning power can be set in 0.1-watt increments
Average power variation only ±1 %
Programmable soft start and soft stop
Supply voltage range from AC 100 V to AC 240 V

Quava Mega Puck Flow System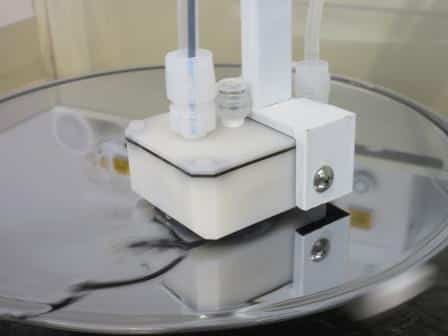 Kaijo Mega Puck Flow – Top view of the megasonic transducer
Kaijo Mega Puck Flow – Side view of the megasonic transducer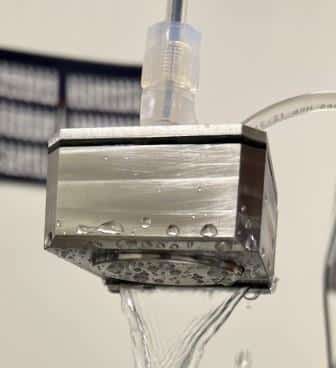 Kaijo Mega Puck Flow – Side view of the megasonic transducer (stainless steel version)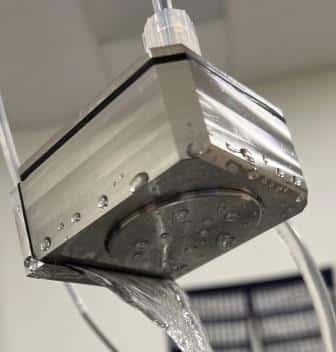 Kaijo Mega Puck Flow – Bottom view of the megasonic transducer (stainless steel version)
Specifications (Generator)
| Model | 30110 (QR-003) |
| --- | --- |
| Output power | 1–100 W |
| Output adjustment | 0.1-W increments |
| Frequency | 950 kHz |
| Oscillation modes | PLL / A Mode |
| Frequency control | Auto-tracking PLL system |
| Output display | 7-segment digital display with 4 digits |
| Communication | Remote Terminal, RS-485, DeviceNet |
| Power supply | AC 100–240 V, 50/60 Hz |
| Consumption | 5 A |
| Dimensions (W × D × H) | 218 mm × 258 mm × 138 mm |
| Weight | 5 kg |
Specifications (Transducer)
Model number
38S
38Q
38Sa
Frequency

950 kHz


Generator(s)
30110 (QR-003)
Input power
50 W
Material of body
SUS
ECTFE
Material of transducer plate
SUS
Quartz
Sapphire
Ultrasonic effective area
Ø 40 mm
Liquid temperature
15–40 °C
Liquid flow
1–2 ℓ/min
Material of gasket
FFKM / gum last