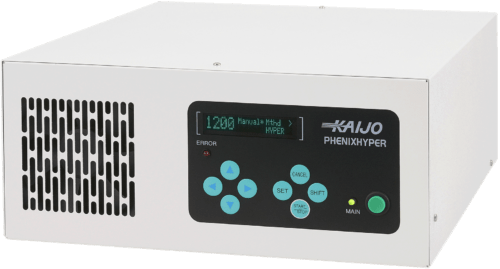 Kaijo Phenix Hyper – The Damageless Aluminium Cleaning System
Parts with hard surfaces such as those made from steel or brass are easy to clean with ultrasonic cleaners. Especially lower frequency and high power ultrasonic cleaners can clean these parts very quickly. However, for aluminium parts, it is not so easy to clean quickly and effectively without damaging the surface of the parts. Aluminium is a softer metal and surfaces can be scraped in high-power ultrasonic cleaning systems.
Kaijo's new Phenix Hyper system consists of a high-performance ultrasonic generator and a high-quality, reliable transducer. Phenix Hyper may be used in standard mode or revolutionary "Hyper mode". The new Hyper mode achieves an extraordinarily uniform ultrasonic pattern for powerful but damageless cleaning of aluminium parts. In Hyper mode, the ultrasonic cleaning energy fills the process tank to achieve complete cleanness on aluminium parts with flat surfaces or complex shapes by significantly shortening the cleaning time.
Key Features:
Powerful ultrasonic cleaning energy of up to 1200 watts at 78 kHz.
Hyper mode designed for three-dimensional cleaning
Auto-tuning function for self-adjusting when components or operating conditions have changed
A user-friendly operating interface
Industry 4.0 ready